The 8th InfoSecurity Summit 2016

Date : Tuesday, 26th April 2016
Time : 08:40am to 05:45pm
Venue: Hong Kong Convention & Exhibition Centre

The Annual InfoSecurity Summit  is a 1 day conference and showcase exhibition  bringing together leading security experts. This year's theme is "Dynamic Defense for Today's Digital Business."
Exabeam's Product Director – Harjith Prabhakaran – will be speaking at the summit, on 26 April, 4:00PM – 4:30PM. He will be presenting insights to the User Behaviour Analytics Space and the growing necessity of UBA solutions.
SPEAKER
Harjith Prabhakaran | Product Director – APAC & Japan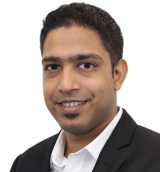 We'll also be exhibiting at booth #4, please come by and our team will be happy to share more.
See you there!
Team Exabeam