Novacube insights: e-Meet & Greet Harjith Prabhakaran, Product Director of Exabeam APJ
POSTED on March 5, 2016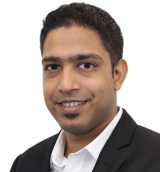 Introducing Harjith Prabhakaran, Product Director of Exabeam. Heading one of the most intriguing security solutions, Harjith takes us through what keeps him on top of his game as he spearheads the growth of Exabeam in Asia Pacific and Japan.
Explain your role as a Product Director?
I am responsible for leading the launch of Exabeam in Asia Pacific and Japan. Exabeam is a new type of security solution that uses big data science and machine learning to monitor and analyse the behavior of users across organisations, ultimately detecting insider threats that can typically go unseen for months at a time.
This is a new position for me and I will be establishing the Exabeam profile through our partner channels and providing the sales and engineering support for these partners and our customers. We have plans to launch across Singapore, Hong Kong, Korea and Australia first, and will gradually expand our footprint as appropriate.
What are the most pressing things to take care of first thing every day?
Apart from double-checking my meetings' agenda with partners and key customers, I never miss the opportunity to keep up-to-date with cyber security news from around the world. I have set up my own search portfolio, that I access every morning, to make sure I am on top of any news about user behaviour analytics and the current issues in countries where our partners and customers are based.
What is the most interesting implementation that you are currently supporting?
Without a doubt that would be implementing Exabeam for a slow-to-develop but high impact breach. We are currently working with an organization that is suspected to have a group of compromised internal users and an attacker who is slowly creating a potentially unique and totally devastating plan. The ability to help resolve such unknown attacks with positive outcomes is one of the key advantages in my role as Product Director.
What technology helps you in your role?
My job has me virtually living on the internet! Besides that, I also heavily rely on social media to keep me up-to-date with what is happening around the globe. And I love using mobile apps to help me manage my time, travel plans and keep me on top of a packed agenda.
iPhone or Android? Facebook or WhatsApp?
I love the Android technology for its ease of use but I prefer iPhone for security. I prefer WhatsApp and LinkedIn over Facebook to connect to my professional network.
Harjith Prabhakaran, Product Director for Exabeam
###
Media Contact
Grenadine Lau
Director – Marketing & Operations, novacube
Email: grenadine@novacube.com
Mobile: +65 6440 3183
Tags: Asia Pacific, Exabeam, Harjith Prabhakaran, Stateful user tracking, User Behavior Analytics