Novacube insights: e-Meet & Greet Grenadine Lau, Managing Director of Marketing & Operations, novacube
POSTED on July 18, 2017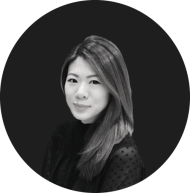 Introducing Grenadine, our Managing Director of Marketing & Operations.
Grenadine oversees marketing for all our portfolio brands and runs the day-to-day operations at novacube…and we mean run, literally. Shuttling between meetings and running (again) errands for the company, she's in and out of the office faster than you can say her name.
But if there is one thing Grenadine always makes time for, it's for her team. Unofficially labelled the 'novacube trooper', her unceasing encouragement, positive attitude and cheerleading has played a huge role in ensuring the team stays united and aligned with novacube's vision of being the Leading Technology Accelerator in Asia Pacific & Japan.
Through this Q&A, we find out what drives Grenadine every day, how she deals with day-to-day challenges, and the bolder impact she envisages novacube making in the Technology industry.
How long have you been in the IT sector?
A decade!
Where were you before novacube?
I spent close to 6 years at Imperva, experiencing the company's transition from pre to post IPO covering the Channels, Marketing and Operations for Asia Pacific & Japan (APJ).
What does your role as Managing Director of Marketing & Ops at novacube involve?
It involves building new and unknown brands from scratch and creating a distinct market leader space for them. On the operations side, I ensure the smooth running of novacube's day-to-day. On the marketing end, I am constantly strategising how novacube can improve engagement and outreach to and for best of breed technologies via our marketing channels.

What challenges do you face in your role and how do you overcome them?
I face different challenges every day and I've learnt that there's a solution to everything. Being adaptable and having the tenacity helps to navigate through challenges. There is one constant challenge I face every day and that is never having enough time – so much to achieve, too little hours! Good time management is the key; One tip I practice is prioritising what is most important and difficult to do in my more productive hours.
What was the biggest challenge you faced in the initial months of novacube's incorporation?
As a pioneer technology accelerator with a very unique offering in the market, education was imperative for the industry, so that they could understand our business proposition. The challenge we faced and are still facing today is how we can best educate and articulate our offering to the industry.
Novacube has crossed its 2 years now, any notable moments to share?
There's not really a precise moment, but rather every time a new partner-brand signs on, that instance of satisfaction is amazing. It also reminds us why we are doing what we are doing at novacube – helping companies reduce their learning curves and associated initial market entry risks.
What keeps you going every day?
My family, team and faith give me all the motivation.
Do you agree that in startup environments (as opposed to an MNC), teamwork plays a more crucial role? How do you keep novacube's team dynamics and spirit positive through tough times?
I do agree because in a startup you only have so many pairs of hands and brains available to work together and make things happen! It is important to create a unique culture and keep everyone involved in that creation process. Ensure openness through simple actions like keeping the team in the loop of wins, losses and emails. Maintaining a positive and cheery 'can-do' vibe especially when times are tough. Provide and circulate constant engagement, feedback and training. Lastly, have a coffee machine in your pantry for early days, late nights and coffeetalks…haha!
What do you enjoy most about being in a tech startup?
The increased exposure, responsibilities and opportunities to innovate. I also appreciate our strongly bonded and driven team.
What practical advice would you offer budding entrepreneurs eager to have a foot in on the tech startup scene?
Build a product with your customers in mind, know your competition, be open to receiving advice from industry experts and leaders, know that there are funding options available such as venture capitals or private investors, and be prepared to sacrifice a lot of your time and energy. 
What do you think is the 'future of tech'?
A full-fledged, completely-infused, secured technology-play in our lives. Imagine automated robotics pre-analysing our daily schedules, researching and preparing our daily tasks and meetings…that will certainly help me better manage my time! Cybersecurity-wise, I'm imagining the possibility of cybersecurity technology becoming a more accessible commodity that end users can purchase off e-stores.
What 3 characteristics come to mind when you think of 'Successful Startup'?
Disruptor, high customer retention, giving back to the industry.
How do you envision novacube evolving over the next 10 years?
Our current business model brings the best of breed technology from US and Israel into APJ. Over the next 10 years, I envision novacube doing likewise for APJ-based technology companies looking to expand outside of the region. Novacube will bridge the gap by making the appropriate VC recommendations and help them execute go to market strategies in a more cost and resource-effective manner.
Grenadine Lau, Managing Director of Marketing & Operations, novacube

###
Media Contact
Grenadine Lau
Managing Director – Marketing & Operations, novacube
Email: grenadine@novacube.com
Contact: +65 6440 3183
Tags: Grenadine Lau, Imperva, innovation, Managing Director, marketing, Motivation, novacube, Operations, startup, Technology Accelerator