Novacube insights: e-Meet & Greet Serene Siow, Managing Director of Sales, novacube
POSTED on April 14, 2017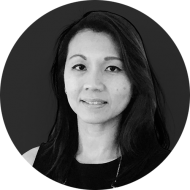 Meet Serene – former Executive at one of the leading global distributors, and now, Managing Director of Sales at novacube.
Commanding a robust IT career spanning close to two decades including several years of leadership experience in tow, this newest member of the novacube family is a force to be reckoned with. Eloquent in her trade, firm in her beliefs and honest in her relationships, this candid Q&A with Serene will demonstrate her unique business acumen that has helped her thrive throughout her career.
How long have you been in the IT sector?
Since 1999… A good 17 years and counting!
How did you begin your career in the IT sector?
By accident actually! I was initially set to interview for an administrative position, but when I met with the HR Manager, she asked if I was interested to consider an Account Executive position for the FSI sector. The role took me from trading floors to call centres.
In one word, describe your career in IT so far.
Amazing.
What has kept you going in the industry for so long?
The knowing that I am a part of and can make a difference in this dynamic ecosystem of technology and human relationships.
What do you hope to see more of in technology startups?
Leaders with a passion and their feet on the ground.
What is your most memorable moment in your career so far?
Too many! But if I have to name just one, it has to closing my first big project in my first IT job and the lasting relationships I built from there on.
What do you think is one trait every salesperson needs to have in order to succeed?
Being self-driven.
What is the biggest challenge you have faced in your career so far?
Honing the dynamic ability to be an influential leader to my team. It's a lifelong learning process that I value very much.
 What do you enjoy doing in your spare time?
Spending 1-on-1 time with my 3 kids, chit-chatting about anything and everything!
What is your go-to, must have, can't live without, technology?
A very millennial answer… but it has got to be my phone!
What is your goal for novacube in 2017?
I aim to develop a recognisable team of business leaders for our partner brands and a dependable network of partners in at least 3 cities across APJ in the next 12 months.
Serene Siow, Managing Director of Sales, novacube

###
Media Contact
Grenadine Lau
Director – Marketing & Operations, novacube
Email: grenadine@novacube.com
Contact: +65 6440 3183
Tags: Asia Pacific, Managing Director, novacube, Sales, Serene Siow, startup, technology, Technology Accelerator