Novacube insights: e-Meet & Greet Yusuke Sakurai, Product Director of LightCyber APJ
POSTED on May 9, 2016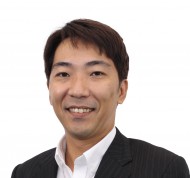 Meet Yusuke. He is probably one of the coolest Tech guys around. Think tousled hair, aviator shades, and a confident 17 years of experience in the cybersecurity world up those rolled sleeves. Our version of James Dean, Yusuke scores the extra swoon for being Product Director of one of technology's hardiest weapons of cyber-warfare… LightCyber.
In this snapshot interview, we attempt to bypass Yusuke's firewall of 'cool', and gain a little more insight to his personal thoughts, experiences and wise words.
Where did you grow up?
I grew up in Tokyo, Japan.
How did you your career in the IT sector begin?
I started out in the Research & Development team of an enterprise Telecommunications firm, where my role saw me studying theoretical concepts for enterprise security and the technical implementation aspect of it.
I gradually moved on to positions that gave me greater insight into how best to balance usability with security, without compromising on the full benefits of technology.
What is the best thing about being a product director?
There's no one best thing about my role, it's a combination of many. For one, it's the chance to be part of such an exciting new technology. Another would be the customer-facing aspect where I gain invaluable feedback from clients about the challenges they face. This allows me to understand the ground better, and the various impacts of cyber security threats across organisations of different verticals.
What are the most critical problems faced by people in your field in Asia Pacific? How do you think these problems should be handled? 
Perhaps it is that security threats are always evolving to become even more complex and deadlier. Sometimes these threats are evolving so quickly it is hard to keep up and identify the right tools for combat. To handle this problem, a lot of information-sharing needs to take place so that everyone is kept updated and always ready to propose appropriate solutions.
How has your encounters with past security breaches changed your thinking?
My past experience with security breaches has made me realise how technology is really just a different platform for a human-on-human fight. Technology is merely a weapon; It is the person with the weapon whom we truly need to fear.
What technology helps you in your role?
 Chat applications like Skype and Web Conferencing systems are my best friends since I need to speak to people in different countries on a regular basis.
Yusuke Sakurai, Product Director for LightCyber

###
Media Contact
Grenadine Lau
Director – Marketing & Operations, novacube
Email: grenadine@novacube.com
Contact: +65 6440 3183
Tags: Asia Pacific, Asia Pacific and Japan, LightCyber, Network and Endpoint, Network Security, product director, Yusuke Sakurai